Enterprise Grade Custom iPhone Applications
With superior knowledge and expertise, Zaptech Solutions builds top quality iPhone applications for clients. We deliver customer-centric iPhone app development services that foster your business growth. The experienced and talented iOS developer ensures that we satisfy the clients' requirements and help them achieve their business objectives. With exceptional iPhone application development solutions, we take your business to the next level. Whether you want to create a new application or wish to port an  app, our team has the right skills and expertise to understand clients' ideas and convert them into a reality.
Being well versed with Swift development & Objective-C, HTML5 development, the latest iOS SDK version and XCode, we help clients achieve the maximum ROI. Our company has a team of talented and skilled iOS developers who come up with result-oriented applications for the clients. Clients can be assured that they will get the apps that excel at App Store and they can enjoy the maximum number of downloads when they choose us. Our iPhone application designers are known for creating incredible user interfaces that lure the users to download and use your app. We help brands increase customer retention and loyalty.
Zaptech Solutions follows a logical approach to deliver business-centric iPhone apps to the clients. As we have huge experience in working with clients across various industries, we know that we can cater to all the different types of iOS apps requirements. Look no further for an expert iPhone/ iPad, iOS app development company as we are there to provide top quality solutions. We specialize in end-to-end iOS app programming services and build mobile apps by planning an effective strategy to help your business grow. We focus on building long term relationships with our customers and so, we deliver top quality applications. iOS users look for applications that simplify their daily tasks. Our team stays connected with the clients right from planning and conceptualization to successful delivery of the app. Our skilled iPhone application developers don't mind going an extra mile to offer the best services to the customers all over the world.
We develop user-friendly and attractive iPhone apps for our clients. Our expert iPhone Swift development team is capable and providing out-of-the-box solutions and services. With 8 years of industry experience, we have huge expertise in user experience, strategy, development, mobile app marketing and analytics of the apps. Call us now to hire iPhone developer or to know more about us.
Technology we use:
Xcode
iPhone SDK
Swift & Objective-C
Cocoa Touch, Media Layer
Core OS
HTML5
Java, Core Java
Unity3D
Cocos2D
Adobe Flex
Xamarin
IntelliJ AppCode
JSON / XML , and many more
We build iPhone apps for industries like:
Retail
Education
Fashion
Healthcare
Banking
Manufacturing
Hospitality
And more…
Our usual iOS (iPhone/ iPad) app building process
It might be looking same as majority of developers use. We do the same thing differently to achieve your exceptional iOS app.

Why Zaptech Solutions For Your Next Mobile App
Custom iOS app development

A user-friendly, sleek design

Scalable and 100% secure iPhone apps

Robust coding, abided by Apple's guidelines

Thoroughly tested on real-time devices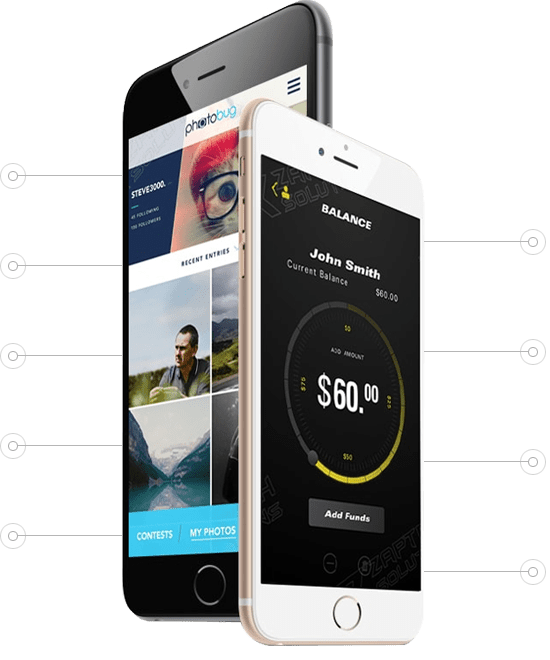 Fast-loading and high-performing apps

Dedicated and experienced team

Proven methodologies

Predictability and consistency
Our Full Service iOS App Portfolio