Drupal CMS

Development

Transform Your Ideas into a Digital Reality with Drupal
Out of the box Drupal application development solutions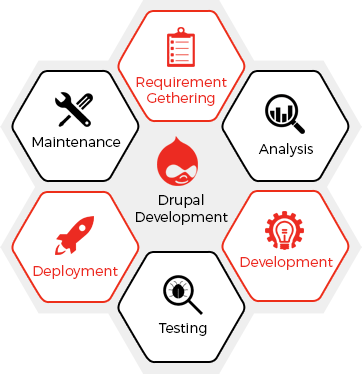 Drupal is a content management system written in PHP programming language. It is a powerful open source CMS framework that is loved by enterprises and governments all over the world. It comes with a large number of themes and modules that can help you build the right kind of website or software. Being highly customizable, it is a trusted choice of millions of developers and users. Get the most professional and robust Drupal website development services at Zaptech Solutions. The company is backed up with creative programmers who help clients achieve their business objectives.
Drupal developers working with our PHP development company Zaptech Solutions, are well versed with PHP, Smarty MVC, HTML5, DHTML, XML, Web Services, MySQL, MS Access, and Payment Gateway Integration services. They can customize Drupal website, design table less website, develop new components and modules to match your exact requirements.
Our software development company is backed up with a team of skilled and proficient Drupal developers who build robust websites and applications as per the clients' specific requirements. Drupal developers working with us like to innovate and experiment with the new technologies. This makes us stay ahead and up-to-date with the latest advancements in the industry. We specialize at building Drupal websites for different industry verticals. Having built and maintained several projects in the past, we are confident that we can cater to all the different types of Drupal customization and development requirements.
With years of experience we have built a strong competency in Drupal customization, theme design and integration. The trained and experienced developers go an extra mile to deliver future ready websites using Drupal. Being a leading web development company, we build reliable and secure websites matching clients' requirements. We strive to make our clients stand out of the competition and make their business grow. Contact us now to hire a Drupal developer or to know more about us and our services. The open source development CMS, Drupal, enables us to experience unamatched digital experience. It's easy to manage and fully customizable. Overall it provides an unmatched CMS experience.
Drupal

application development services we offer

Module development and customization

Custom template and theme development

Drupal performance optimization
Benefits of
Drupal Open Source

Development
Comes with a lot of functionalities.

Facilitates rapid development.

Thousands of free modules available. Rock solid security and dependability.

Highly customizable.

Extensive API support.
Industries

we serve
eCommerce
Medical & Healthcare
Travel & Hospitality
Manufacturing
Real Estate & Property
Retail & Consumer Sector
Education & E-Learning
And more...
Planning To Use
Open Source

For Your Next Project?

Contact Zaptech Solutions now.
Web Design & Development Portfolio