What Should I Choose for My Ecommerce Store: Magento Or OpenCart?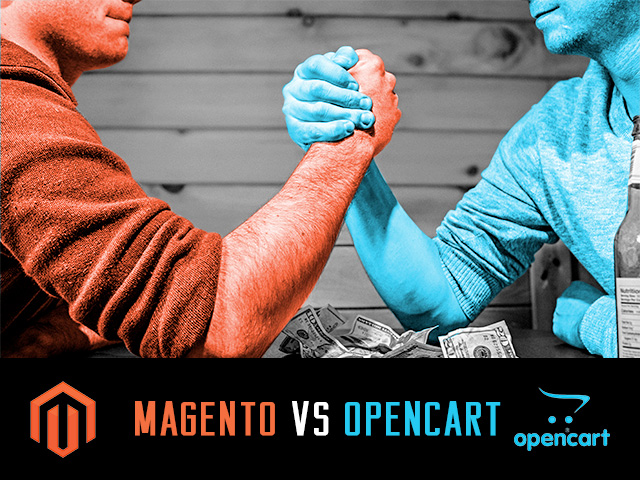 Entrepreneurs who are thinking of developing their eCommerce website often have one question in mind: Which eCommerce platform should I choose for developing my online website?
Well, when we talk about eCommerce platforms, there is no one size fits all solution.
Any enterprise can establish an online store and remove the restriction of geographical boundaries. Every enterprise – big or small needs a comprehensive online shopping website solution to showcase its products and services. Depending on the business requirements, one can pick the best suitable platform. Ecommerce websites can run all the time and hence, it will be a convenient option to have an online store to reach a wider audience.
Here, we'll talk about two major competitors in the eCommerce industry: Magento Vs. OpenCart, and explore the features of both platforms to help you decide which is the right one for you.
Before we start comparing these two, you should know that there are several other eCommerce solutions such as WooCommerce, ZenCart, Shopify, BigCommerce, and others. Based on your requirements, you should pick the right platform matching your requirements.
Magento Pros
Magento is simple and easy to understand. Stores built using Magento can be customized as per the clients' requirements.
It offers great speed and performance for your online store.
Magento is SEO-friendly.
It is easy to scale up the store by adding the desired features and functionality using plugins.
It offers more than 50 payment gateways and users can choose the right one.
Magento allows the users to add discounts and promotions at the time of checkout.
OpenCart Pros
OpenCart is a free open-source platform that is used for building eCommerce stores.
It supports unlimited categories and unlimited products.
OpenCart supports automatic image resizing features.
It supports unlimited information pages.
OpenCart offers more flexibility on the look and feel of the templates.
Magento vs. OpenCart
With Magento, small and large business owners can create an online store. Both free and paid versions of Magento are available. Small retailers can choose the Community edition, whereas big enterprises who require a large portal can opt for the Enterprise edition of Magento. If you have a small budget, OpenCart can be the right option. It can be the best choice for startups. With minimal investment, one can get a fully functional website to sell their products or services to the online world.
With Magento 2 development, you can create a fully customizable shopping site and also gain SEO benefits. There are no design constraints with Magento. This CMS offers unlimited control over the way your shopping cart looks and how the user would interact with it.
OpenCart comes with a user-friendly control panel that is self-explanatory for most people. There are several online tutorials available within the developer community. On the other hand, Magento offers benefits such as order history, product comparison, recently viewed products, and more. It is easier to pull reports for the inventory, sales, product search, low sales, and it is possible to manage multiple stores from one single administration area.
With Magento, it becomes easier to incorporate eBay, PayPal, RedLaser, Mil, Where, and GSI Commerce. SEO-friendly websites can be built with Magento, while OpenCart is a bit restrained when it comes to SEO and users cannot use a custom URL. Some of the pre-installed options are limited and one cannot customize the template as much as one can do with Magento.
Final Verdict
While choosing the right eCommerce platform, one should identify the requirements and budget. OpenCart is just for beginners or small stores. If you are planning to build a huge online store, Magento can be the right choice. It's a good idea to talk to your developer or your hosting company to make the best choice for your eCommerce store.
Blog Home