Top 3 Mobile App Development Trends for 2017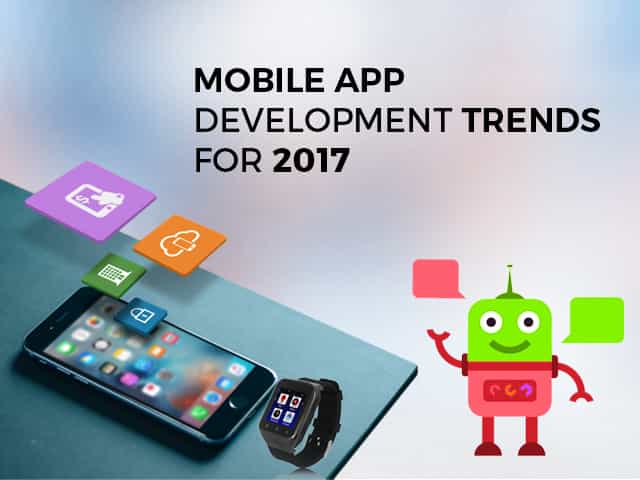 As we bid adieu to 2016, new trends and predictions will be welcomed by developers and tech geeks and on the other hand, some trends will fade away in 2017.
We've listed down some of the mobile app development trends for 2017:
Wearables and connected devices are likely to grow
One of the hot topics in the IT sector is Internet of Things. Connected devices are gaining popularity in the industry. Companies all over the world are busy building devices that communicate with the physical world and transform the way we carry out our daily activities.
The IoT industry is booming as companies in different industries such as healthcare, education, automobiles, travel, security, smart homes, and retail have started investing in the technology. Developers are experimenting and integrating IoT enabling data access to be easy and more efficient.
Chatbots and Robots will be trending soon
2017 will automate almost everything and we may see progress of messaging apps with chatbots. Tech experts expect some of the major mobile giants to introduce chatbots in the coming releases. They may come up with new sales pitch to beat Siri and Lexa.
Bots are likely to focus on three major consumer experiences such as Content Interaction, Customer Service, and Productivity. They make it interesting and fun for the consumers to engage with your brand. They will also have a huge impact on customer service helping businesses respond to the customers faster. Distribution of content will become far more easier within Messenger with the help of chatbots. Brands will be able to deliver targeted content to their users and it will help them in lead generation.
Mobile Payments will be a major change
Mobile Payments is a trend that is quickly being adopted by the business owners and users. As mobile payment system eliminates the need for users to pull out cash, it is a growing trend these days. Cashless payments will increase the sales in the coming years. As it is a faster option, it reduces the checkout process time for the consumers. With so many benefits of this technology, payment processing technology will drive more revenue to the business owners and retailers.
One of the major advantages of mobile payments is the ability to integrate loyalty prograns. Offering mobile payment options to customers makes the process of purchase easier for them. It is considered to be more engaging than other traditional payment options. It can be said that this is the future currency, and it's time to say goodbye to cash and plastic.
Conclusion
It's important to present a smooth user experience for all the mobile apps developed. Catch the latest trends in mobile application development industry and build groundbreaking apps in 2017. Design skills and security will remain as the major criteria for developing apps. If you are looking for mobile app development, drop us an email on sales@zaptechsolutions.com.
Blog Home