Android vs. iOS: Who Is The Winner?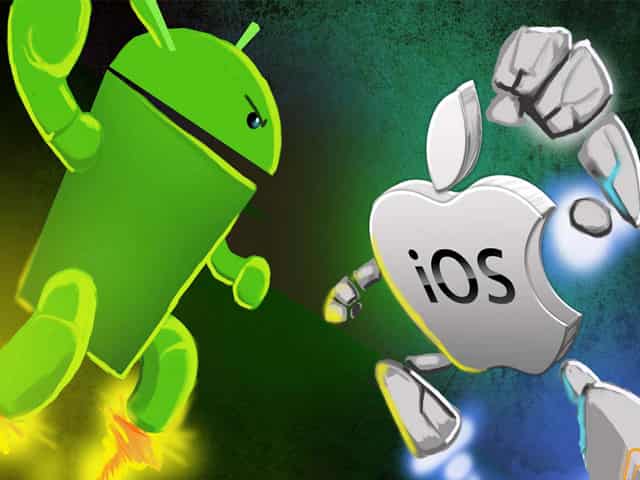 Rick wanted to develop a mobile app for his business, but he was confused with which platform to choose. He wasn't sure whether he should develop the app for iPhone's iOS or Google Android. He did some research online and found that this is the biggest rivalry in the tech industry. He tried contacting some of the mobile app development agencies to get expert advice. The common answer he got from industry experts is: It Depends.
Should you develop an app for iOS or Android platform?
1. Location of Visitors
One effective way to choose between iOS and Android platforms is to consider the current visitors on your website. Check the web analytics and make the right choice of selecting the correct mobile app platform. If you notice that the visitors come from Asia, South America, and Africa, then it is advisable to go for Android. On the other hand, if visitors come from Europe, North America and other countries, you can opt for an iOS application.
2. In-app purchases
If you are planning to make money via in-app purchases or charging the users directly, it is a good idea to opt for iOS app as Apple users spend more than any other platform users. If you're interested to make a lot of money through your mobile app, iOS is the right platform for you.
3. App Monetization
If you want to get more upfront revenue from the mobile app, iOS can be the right option. Android's in-app monetization model can help you get outcomes over time. In short, if you want your app to get popular in America and the entire world, you can choose Android, but if you are worried about making money with the app, go for iOS.
4. Time to market
Industry experts believe that Android app development takes longer duration as compared to iOS application development. Android app development helps you save a lot of time and money.
5. Cost
The cost of Android app development can be higher as compared to iOS app development as there are a large number of devices available for Android platform as compared to Apple's iOS.
Should I start app development process for both the platforms?
If your business has more resources, you can think of developing a mobile app for iOS and Android platforms together.
And the winner is… None as well as Both. Really, there's no way to compare iOS and Android platform and determine which one is superior.
Let's build your app.
Are you looking for building a mobile app? Talk to us about your project and we would be glad to assist you.
Blog Home