Apple Makes Big Announcements at WWDC 2017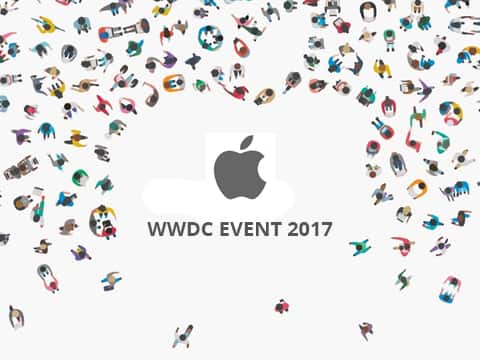 Apple Makes Big Announcements at WWDC 2017 – Hottest Features for iPhone and iPad
Tech experts, software developers, and Apple fans had been eagerly waiting to see what the giant comes up with this year. The wait is over now as Apple made a storm of announcements about the updates on the iPhones, Apple TV, and MacBooks. There's a lot of news news to get into it and so, let's just dive into it to know more about it.
Let's see what iOS 11 brings in for the Apple lovers:
MacOS gets faster and smarter
One of the major changes that people would love is faster default web browser, Safari. It has about 80 percent faster JavaScript performance, which means that it will load faster. Apple has also built auto-play video blocking directly into the browser to speed up the performance.
Mac lovers would be happy to see the upgraded version of the Photos apps in the latest version of MacOS. Apple has also come up with several other tweaks like improved photo tagging and facial recognition feature to lure the users. Apple is working with Unity, Steam, and Unreal to bring new virtual reality engines to the OS.
iOS gets a huge makeover
Apple has made a bunch of design tweaks to help the people navigate native apps in iOS. It has announced changes to the Control Center and Notifications Center. Control Center will have an improved vertical slider to control brightness and volume. This means that the users do not have to slide between the two screens.
Apple has planned to combine the lock screen and the Notifications Center in iOS 11. It would help to streamline the experience and people will be able to get relevant information at a glance.
Improved Siri, Automatic DND driving mode, iMessage Features
iOS 11 comes a few social updates such as an update to Siri that has improved speech and can help the users to translate the sentences. The new voices of male and female are more natural with better tempo while speaking. It can also translate English words and phrases into Spanish, Italian, French, German, and Chinese.
The new Siri goes beyond the voice as it comes with more analytical across various iOS apps. For example, if you are searching for the latest mobile devices, Siri will provide you with the latest articles related to the mobile phones in the News app.
Even if you get any text message asking for money, Siri would suggest iMessage's Apple Pay integrate, and ask for the same amount that has been requested. Users can now send payments quickly through iMessage. One can use TouchID fingerprint to authenticate the payments and it works just like Apple Pay.
One can also use Siri to add to the Evernote or pull a QR code in WeChat. Isn't that amazing?
Augmented Reality
Tim Cook has been talking about Augmented Reality for the entire year. So, this made the users excited for what he brings in for the AR. Apple has introduced the ARKit, which is a new platform for developers. It would help the developers to bring the most advanced AR experiences to iPhone and iPad using the built-in features such as motion sensors, processors, and cameras.
This new platform would help the developers to tap into the latest and emerging technologies and develop compelling and attractive virtual content on the actual-world scenes. It would also offer great interactive gaming experience for the users.
Cameras and Photos features
With the new iOS 11, users get an amazing experience while clicking the pictures in portrait mode. Users can also save more space as the new OS comes up with the replacement of JPEG called HEIF. Now, you can click the photographs even in low-light and have high quality images. Moreover, the Memories feature uses AI to form custom presentations of photos and videos. It can quickly scan the library to identify the things like people and events.
The New App Store
Since Apple App Store has launched, Apple has paid $70 Billion to the developers. The apps that are submitted to the Apple App Store are reviewed within 24 hours. The new App Store is getting its most vital redesign with a lot of amazing features. A new tab will be located at the bottom of the screen and it would feature a new app every day. The App tab will be focusing on just applications and so, users do not have to worry about the games being scrambled in the search.
The all new games tab will have different games as per their rankings and popularity. The users can browse different games by their categories and also watch videos on gameplay. You can scroll through ratings as well.
How iOS will affect iOS App Development?
At the WWDC 2017, Apple demonstrated the new AR experiences and also launched new tools to help iOS developers all over the world to bring new and advanced experiences. With the launch of CoreML framework, the developers will be able to build smarter apps with machine learning. It would also enable all processing to take place locally on-device.
The SiriKIt provides an ability to integrate Siri into the apps and make them more convenient and easy to use. As discussed above, Siri has been expanded as more features are added to it. Developers can use this advancement in iOS app development to deliver a rich experience.
Developers can make use of MusicKit feature and integrate it into their apps and get access to more than 40 million sings. Music lovers can expect some revolutionary changes and also enjoy music to a new level.
Are you planning to update your existing app to iOS 11? Get in touch with us and our team of developers will be glad to help you.
Blog Home