Top Gaming Trends In 2017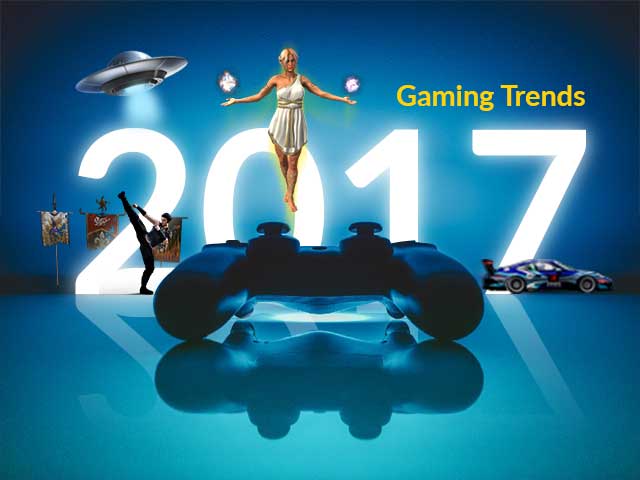 A whole lot happened in the gaming industry in 2016. The year 2016 witnessed great technological advancements in video games, with the release of VR headsets. It can be assumed that 2017 would determine the commercial feasibility of virtual reality gaming. With the rising game availability and reduction in costs associated with each platform, we can expect global volume sales of AR/VR headsets to reach 10.9 million units in 2017. We would also witness the release of a new console from Nintendo and the Xbox Scorpio. This year seems to be another year of positive growth for PlayStation pro and static consoles. The smartphones are the biggest gaming platform. Tech experts have already started seeing the value of mobile games as advertising tools. Industry leaders expect the growth of mobile game development in 2017.
More Mobile Gaming
People love playing games on their mobile devices. With the sales of mobile devices exploding day by day, there is a growing demand of games for mobile phones. Mobile gaming will be a big deal in 2017. The major reason for the growth of mobile games is that it reaches more and more consumers and generates more revenue. Mobile phones and tablets have already become an essential part of people's everyday lives and so, gaming platforms remain a hot trend this year also. Nintendo is going to walk into the mobile space in 2017.
Wearable Devices
The wearables will have a great impact on the gaming industry. The game studios all over the world will get an opportunity to carve out viable niches with addictive game development for wearable devices. It is rightly said that wearable devices are changing the future of gaming industry.
Social Gaming
Social gaming has become a hot trend since the last few years. The players can easily interact with their social friends, invite them to play, and obtain their review points. This type of social gaming has brought a new twist to games. We can expect the rise of social gaming in 2017 and the coming years. This would also give a chance to the players to enjoy a highly personalized and customized gaming experience.
eSports
The biggest technological development in 2017 could see eSports going mainstream. Activision Blizzard, the world's largest computer-game publisher disclosed that they are planning to use their partnership with Facebook to attract new followers. After that, there was an announcement that the UK will get its first 24-hour eSports TV channel with ITV and Sky. 2017 will witness a new type of eSports league that will be completely different from anything currently running in the genre, but it will have similarities to the traditional sports.
Indie Outliers
Indie is where games take their evolutionary steps. We can expect more and more indie studios trying out new forms of storytelling through games. It can also be assumed that indie would be pushing the boundaries of what games can do. We can expect outlier success stories that emerge exceptionally. We would see larger titles and studios within the indie realm.
Virtual Reality
Virtual reality headsets have been making news since the last few years. VR / AR have become an integral part of the ecosystem for the masses. The immersive and engaging experience VR headsets offer is loved by the gamers across the globe. VR games are considered to be a good way of entertaining people providing them a life-like gaming experience.
Final Thoughts
The game market is huge with many businesses investing in game development. With the growing number of development tools as well as mobile development technologies, we can expect 2017 to be an important year for the gaming industry in 2017. Though there are several new trends popping up in the gaming industry every now and then, user experience for the audience still remains the top priority for your game. Thorough expertise in game design and development combined with the latest trends can help you make a lot of money in the gaming industry. Think about it.
Blog Home