How to make your eCommerce website trustworthy?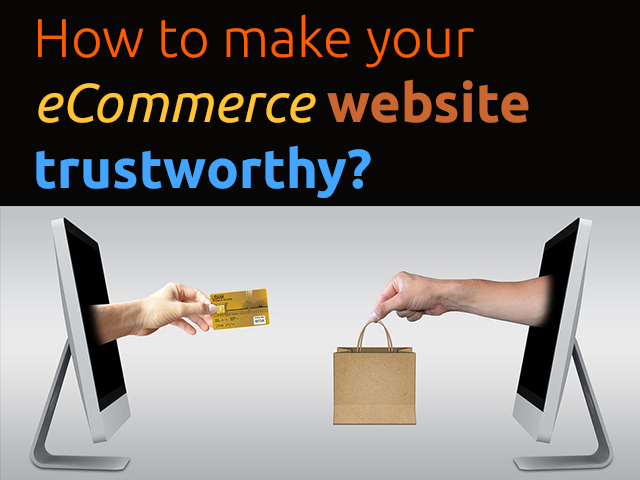 So, you have built your eCommerce store with an amazing design, but you are having a difficult time to convert the visitors to your customers. The problem could be your website is not trustworthy enough to attract the customers. There are chances that your visitors may not find your online shop reliable and so, they may be looking for products and services at your competitors' sites.
Remember that you only have a few seconds to attract the visitors and convert them into your customers. Most of the visitors make the decision of buying from a particular site only if they find the store trustworthy and reliable.
Why is it important to have a trustworthy store?
There are a lot of possibilities of scams, malware, or poor customer services. As online transactions involving money take place online over eCommerce stores, it is important that your site is trustworthy. People would have to enter the credit card details and other confidential as well as personal information while registering on your website or when they buy products or services from your store. It can be a good idea to use a hosted solution to ensure the security of the checkout on your site.
What do consumers look for while purchasing online?
Trust involves the belief that your company is reliable and the products or services would be delivered to them as promised. A consumer expects that the products would perform as it claims and the description mentioned on your website should be accurate and unbiased. The users expect the eCommerce store owners to store the customers' personal credit card information safely so that it is never misused.
People look for the best value of the money they spend. Consumers need high quality products and services when they shop online. The exchange and returns should be easy for the consumers. If the consumer is not happy with products or services, they expect the seller to exchange or return it without any hassle.
How to design an eCommerce store that is trustworthy?

1. Have a strong design
The visual appearance of the eCommerce store plays a major role in pulling customers towards it. Who would like to dine out at a restaurant that has cracked windows? Would you like to walk in to a dirty and filthy retail store? The physical appearance of your store matters a lot. Make sure that your website, especially the home page, is attractive and eye-catchy.
2. Keep your website up-to-date
Along with having maximum up-time, your website should be fast loading and updated. You can add informative blogs to your website to attract new customers and existing ones. Make sure that your website has all the information related to shipping, contact information, product description, and refund or exchange policies mentioned so that the users know all the terms and conditions before they make a purchase.

3. Prove that your website is secure
Today, online shoppers are internet savvy and they look for https instead of http in their browser. This is a major necessity for eCommerce stores. Websites can secure their servers by using SSL and attract more customers. Almost all the fully featured eCommerce solutions provide SSL certificate to help you provide a secure checkout to your customers when they purchase products or services from your store. You can ask eCommerce developers to help you with it.
The Bottom Line
When customers would come across your online store for the first time, they are likely to do the same thing what one does walking into a store for the first time. What do you when you walk in a new store? You look around the products and services, check the reputation and reliability of the brand, and make the purchase only if you feel that the store is secure. If you want your visitors to buy something from your site, you need to make them feel that your site is safe and secure.
Blog Home