Top Tech Trends That Will Prevail In 2017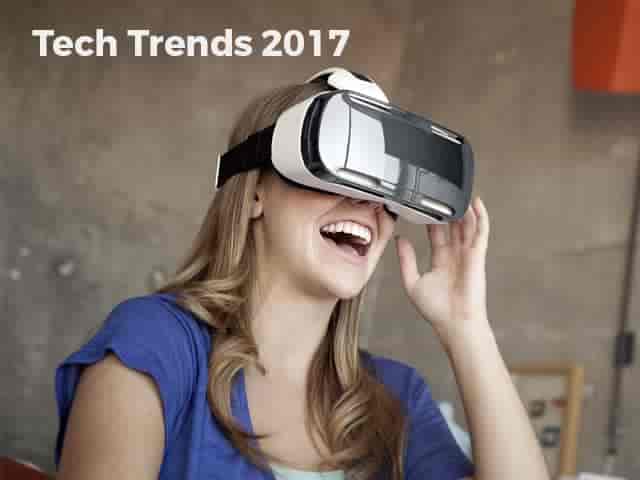 Technology surrounds us and binds us together. 2016 has witnessed some of the most advanced tech trends. Virtual reality and smart home technologies have formed firm steps in the tech world.
Internet of Things (IoT)
IoT is the latest buzz in the industry these days. It is the futuristic technology that connects all the devices with the Internet. It makes automation of many daily chores possible. Internet of Things encourages communication between various devices and controls them digitally. IoT facilitates the automation and helps the users to monitor the appliances and devices remotely.
A multitude of wireless technologies exist to serve your smart home needs. IoT will continue to lure the home owners and office owners. Smart homes, smart office, smart parking, and smart cars will be more prevalent in 2017. More and more jobs would be automated; even the companies providing customer service would be automated. Better AI and chatbots will change the way customer service is offered, leading to enhanced client satisfaction.
Physical and digital worlds would blur
Virtual Reality (VR) has been a big hit in 2016. Industry experts believe that 2017 will be a banner year for VR. This emerging technology creates a realistic world and enables users to explore places with the help of a head-mounted display (HMD). Virtual reality allows the users to experiment with the artificial environment.
The recent improvements made to VR headsets indicate that the industry is moving closer to experience a virtual environment. In 2017, we can expect more time and resources to be spent on developing VR apps. VR would be enjoyed by a huge audience very soon.
Augmented Reality
While VR spreads its wings, augmented reality won't be left behind in 2017. It is assumed that AR will win over VR in the coming few years. AR helps retailers represent their products to the customers. On the other hand, customers can visualize the objects and make the decision of purchase. Customers can try the outfits or shoes before they actually buy the items.
Augmented reality acts as a data-adding system, which offers security and time saving benefits. It provides real time information in a specific position or environment, and the users can get access to it without even looking for it. Brands can attract the new audiences and retain the existing customers by using Augmented reality.
Artificial Intelligence and advanced machine learning
Artificial Intelligence (AI) and advanced machine learning (ML) are composed of several technologies. Machine learning has taken massive strides in 2016 and will continue the same in the coming few years. The day is not too far when "machine learning" will become a "normal" thing for people. Applied AI and ML give rise to a variety of intelligent implementations that include physical devices, applications, and services. Combined together, AI and ML help you create systems that understand, learn, and operate autonomously.
Drone technology
Hobbyists all over the world have started buying drones. Businesses across the globe have started realizing the importance of drones and have started leveraging the technology for enhanced customer experiences. We will see more and more businesses using drone technology in 2017.
3D Printing
Consumer-grade 3D printers have been used since 2016 and we can expect the increased use of 3D printing in 2017. This technology will remake manufacturing and 2017 will witness an influx of such machines. Though 3D printer is an expensive affair till date, we can expect this to change in the coming months. As the prices would drop this year, 3D printing would be one of the top technology trends for 2017.
Innovation in technology takes place at a rapid phase. New technologies will increase the productivity of your business and make the world smarter.
Blog Home