Why Isn't Anyone Downloading My Mobile App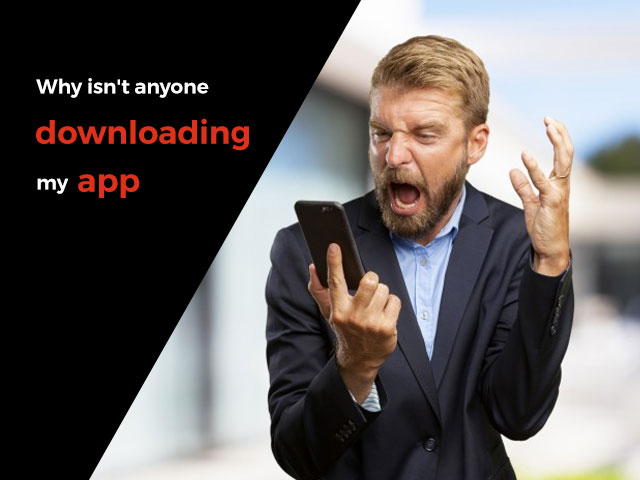 You've spent a lot of money for building your mobile app. You're excited to see how many users download your app after first month of its release. So, why isn't anyone downloading your mobile application? There are a number of reasons why your app is not being downloaded by the users.
Some app owners forget to market their app thinking that the application will market itself on its own. As hundreds of apps are added to the app stores daily, it becomes a challenge for mobile app owners to make their app stand out of the competition.
Know your users
It is important to set your goals before you start marketing your app. Identify the targeted users of your application and set specific and realistic goals matching your objectives.
Hear your customers
A few app owners forget the power of feedback loop. Imagine you've developed a feature-rich mobile app and asked your team members and staff to provide feedback and suggestions. But the question is: Are they the real targeted users of your app? It is important to hear your customers right from the initial launch of the application. Read the reviews on app stores and take them seriously. No matter how long the review would be, make sure that you read all of them and revert back to them. Keep the communication channels open for the users as this will help you improve your app's rating.
Set aside a budget for marketing your app. It is important to advertise your app and improve the visibility in key marketplaces. Partnering with an expert app marketing company can be beneficial. Though you'll have to spend some amount of money for hiring a professional for mobile app marketing, it is essential to help your app achieve an optimal rank among the app stores. Explore the options available when hiring a digital marketer and make sure that you get the maximum benefits.
Your app should be marketed by sending out emails to a wide consumer base. Include all the details in the email and incorporate your mobile app's links into them. Videos are a great way to showcase the app features. It can be a good idea to create a simple 30 seconds commercial video to let the users know about your app.
Make sure that you leverage social media and other platforms to spread the word about your application. You can include the demo video into blogs and YouTube channels to make your app popular.
Effective sceenshots for your app
Just taking a screen shot of your app and dropping it on the app store will not help you good results. It is essential to add images, captions, and other visual elements to allow the user understand what your app does and how it does it.
Use the power of social media platforms
Including app download links on your website or Facebook and other social media pages can help you get more traffic to your app and more people will download your app. Join a few Facebook and LinkedIn groups and communities to share your app and engage the audience.
Conclusion
Promoting your mobile app doesn't always mean that you distribute it globally. You can think of creating a contest to incentivize your users for download your app.
It can be a good idea to think about marketing of the app right before it is started to develop. You can choose an experienced mobile app development company that can provide application marketing services also.
Blog Home